Now I remember what life was like last summer...
I spent a few hours sanding down the botched primer again. It was quite depressing. I feel like that is all I did last summer and it feels endless. It is mostly done. I need to order some more sandpaper and I have a couple more hours and then I will be ready to apply primer again. The high build primer that I am removing sands very easily a few days after application - like butter with 120 grit paper. Today, 5 months and a long cold wet winter later I am sanding with 80 grit and it is more like concrete.
Some people may not know why I am sanding off the primer. I applied it late in the season and danced around a few rain clouds and cold weather. I pushed the envelope because I was anxious to get it done before winter set in. Rushing, as it turns out, was a mistake. The primer bubbled up after a few days in a couple of spots. Because I was uncertain about the rest I decided to remove it all and be on the safe side. Awl-grip top coat is expensive and I didn't want to see the primer pop up next summer and take the top coat with it. Better to bite the bullet and start again - or so I thought back then. Now, after the winter is over I am thinking most of the primer was actually on there pretty good. I guess I wouldn't have known that unless I had removed it though...
I thought I would post a re-cap of last summer's deck work.
Over the past few years I have been dealing with several small issues with the deck and core. For the most part the coring was sound but I did have to replace some small sections like under stanchions and the working jib tracks. The good thing about my Triton, unlike most out there, is that the core was mostly intact. Someone had installed a wheel in the cockpit and the cockpit sole wasn't sealed properly and water got into the core and it was a total loss. My first year I recored the sole. The aft deck was also pretty mushy and I got around to recoring it last year. The goal for last summer was to have the deck and hull primed for paint so that it could be painted over the winter. As I mentioned I didn't quite make it.
This is what the deck looked like last summer after a lot of small projects.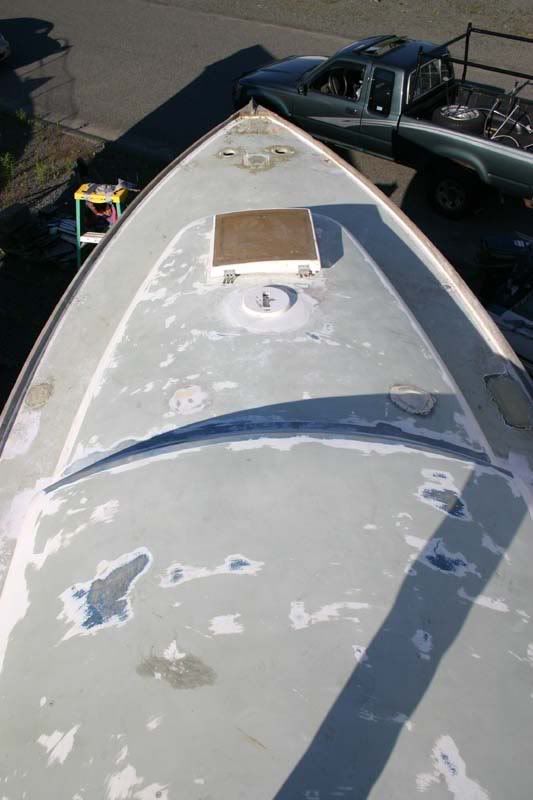 As you can see the gelcoat was shot. I could have filled in the cracks and painted but after five or ten years those cracks would have started showing through. The only real fix was to remove the gelcoat.
It was a long nasty job. No other way to say it. It was mostly removing the white portions of the gelcoat. The non-skid areas were thick and soft and didn't seem to have an issue with cracking. In some places it had bubbled up and I removed it aggressively whenever I found areas like that. I have seen some bad examples of this. In my case however, it was limited to a few spots, mostly on the sidedecks and areas that were particularly prone to being wet.
Then I did some fairing.
Finally, there were millions of little pinholes in the laminate where the white gelcoat was and the best way to fix them was to mix up a thin mixture of epoxy and fairing filler and simply paint the entire white portions of the deck surface with it. This then all had to be sanded down... again...
On the way, I took a break and tackled the last of my deck core issues.
The original aft deck. I have become quite handy with the circular saw and in a few minutes I had cut the top skin off to reveal this...
U-G-L-Y...
I cleaned out the wet rotten balsa and sanded the bottom skin smooth. ...And glued down new balsa with thickened epoxy.
And finally, I glued down the top skin, ground down the edges and applied a couple of layers of fiberglass tape to tie the skin to the rest of the deck, faired the whole thing smooth and voila! Good, sound, aft deck.
I have tons more pictures but only limited server space to hold them so I guess I had better stop here.
I took a break today and started looking again at my galley. I am not sure how I am going to implement some of my ideas but I think I am going to just go ahead and start putting in the basics for the galley counter. Later I will figure out how to make it all work or what I just have to give up on.
What I really want is to put the sink right in the middle over the engine. The original Triton sink sits in the starboard corner but I am hoping to improve access to it. I am not sure how yet. Creating a drainage system that will easily get out of the way for engine access is the problem. I guess most people leave the sinks where they are simply because it is the best place for them. I am going to fight with it a bit longer...
With some warmer weather this week on the schedule I hope to tab in my battery box shelves under the cockpit. Then I can put in the aft 'bulkhead' between the cockpit and the cabin. Then I can put in the galley counter and get to work on the other saloon paneling....
Tomorrow is my birthday and I will be away getting showered with birthday presents. The weather is looking promising so I can look forward to getting some more work done this week. Soon it will be all good weather!
Fair winds and following seas...